Jordan
Regular price
£17.75
Sale price
£14.99
Unit price
per
Sale
Sold out
Intense lemon-lime flavours.  A crisp fruitiness makes it a superb partner with food.  Hints of spiciness add to its intrigue.
The world is rediscovering what some think is the greatest white grape
Shes the sexy, mysterious sister that slinks in the shadows. Tall and lithe; underneath shes spicy and racy. Gives you goose bumps. Gets under your skin. Only speaks when shes spoken to; never gives it up after one sip. But once she lets you in, youll never forget her.
Discovering riesling is a bit like love.
Hailed by many critics as the greatest white grape variety in the world, riesling is perhaps the most misunderstood, especially inSouth Africa, where, outside wine-snob circles, its usually recognised as dubious, sweet and cheap.
Thats because weve been duped. Right up until the 2010 South African vintage, tonnes of quaffable white has been flogged as Cape or Paarl riesling. But these bear no resemblance to the noble grape; theyre in fact the inferior variety, crouchen blanc. The oops! happened when crouchen blanc vines imported fromFrancewere mistaken for riesling.
Little wonder true riesling has had a stunted growth in SA compared with other parts of the new world; Aussies and Kiwis glug it like water, and in theUS, riesling and sauvignon blanc sales are neck-and-neck.
For decades, South Africans have been drinking crouchen blanc, thinking it was riesling, says Carl Schultz, winemaker at Hartenberg Estate. Not surprisingly, they found it pretty ordinary.
So riesling fanatics tied on their boxing gloves. Over the last few years theres been a lot of effort put into riesling in SA, saysGary Jordan, winemaker at Jordan Wines. Top producers in SA banded together to form a group called Just Riesling and finally in 2009, with lobbying from people like Jancis Robinson, Michael Fridjhon and the German media, parliament ruled that it must be called by its real name.
Why all the bother? Because of its longevity in the bottle, its complex character and the grapes ability to express itself through the vineyard.
Rieslings birthplace isGermany, where theRhineregion created the worlds best off-dry rieslings for a couple of hundred years. Over the border,Alsacedid a good job too, with an expression of wine thats bone dry.
But even the Germans managed to bugger it up in the 70s and 80s, flogging sugary supermarket wines like Blue Nun and Liebfraumilch. As consumers palates became more sophisticated, riesling was shoved aside by the cool kids chardonnay and sauvignon blanc. But theres a resurgence of interest.
Wines like Blue Nun gave people the perception that riesling is only cheap and sweet, but in fact one of its strengths as a varietal is its versatility from dry to off-dry, sweet to noble late harvest, says Paul Cluver of Paul Cluver Wines. Most top SA producers are doing dry styles, which is fantastic. They have amazing depth, acidity and freshness, with excellent balance.
Riesling has the racy acidity of sauvignon blanc, but with layers of flinty fruit and aromatics. Its not a team player it resents even a whiff of oak, or being thrown in with other grapes. In their youth, local styles show crunchy flavours of lime, Granny Smith and flowers, developing into honeysuckle and resin an orange rolling around in a pine forest, a mate of mine says. Its aromatic spiciness makes it a winner with food.
If anything, riesling becoming cool again is a positive sign that South Africans are venturing from the shallow end of the drinking pool.
People are saying, so we know sauv blanc what else? says Cluver. Even as a sundowner riesling is phenomenal. But first people need to discover it.
Jordan Real McCoy Riesling   - K and L Wine Online
Share
View full details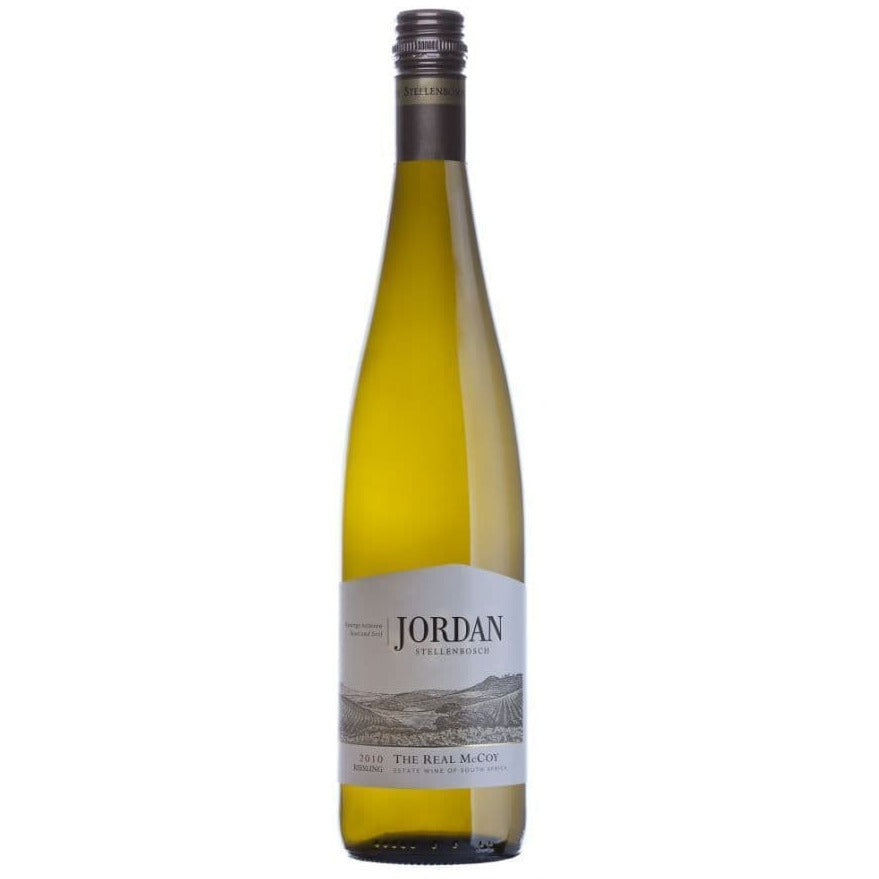 "So great to be able to receive a regular delivery of good wine rather than the usual 12 bottle case sold by most 'wine clubs' "
Great wine at a great time, everytime