Free Shipping on Variety Mixed Cases and Gift Pairs ~
UK mainland only
K and L Wines
Regular price
Sale price
£63.50
Unit price
per
Sale
Sold out
For your everyday favourite, this Malbec mixed case delivers the pick of the best performing Malbec's from the wonderful restaurants, pubs and hotels we supply.
What we have put together for you are the following:
2 bottles of the Goye Malbec from the Goyenechea family. A 5th generation and established wine making family from Mendoza Argentina.
2 bottles each of our Brand Malbec and Hanger and Flank Malbecs, both alternate labels of some of the best producers in Mendoza Argentina.
Goye Malbec Roble
The Goyenechea family have been making wine in Mendoza, Argentina for over 100 years. They were one of the first producers in Argentina to ship Malbec to Europe, and so our love affair with this wonderful grape variety commenced. Ruby-red with purple highlights, bright and lively. A delicate nose with dry fruits, walnuts and light spices. On the palate, soft and fruity with little tannin and a blackberry flavour. The start is smooth and fruity, with hints of vanilla and chocolate. A young and well-balanced wine, ideal to pair with red meat, game birds, stews and stuffed pasta.
Hanger & Flank Malbec
Hanger & Flank's new love of flavour some cuts of beef needed a great Malbec to match with them. This rich, full-bodied Argentinean red with notes of blackberry and chocolate does the job perfectly. Terrific nose of pure blueberry and blackberry fruits. A well-balanced and rich wine, with lush fruit flavours of boysenberry and blackberry.
The Brand Malbec
A fresh and fruity nose with hints of mature berries, plum and violet. An intensely red, juicy Malbec. Incredibly easy to drink, The Brand Malbec is made for food and conversation.
Cheers!
Share
View full details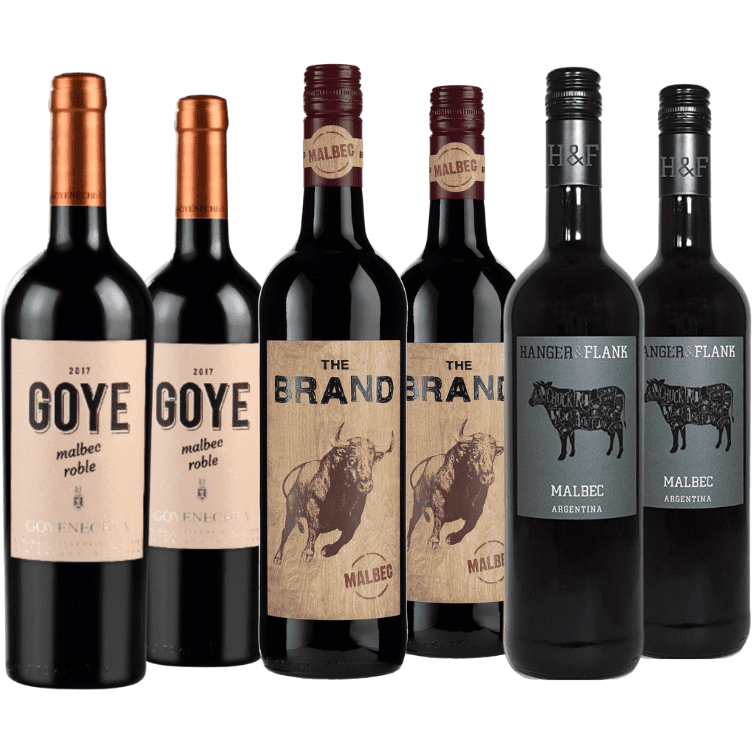 "So great to be able to receive a regular delivery of good wine rather than the usual 12 bottle case sold by most 'wine clubs' "
Great wine at a great time, everytime